Retail Solution
Take orders at the customer's seat, and instantly, wirelessly send to the kitchen


Benefits:
Increases sales
Saves time and staff
Wows customers
Take orders from customers who could be:
Sitting in a cinema or theatre
Sitting at a table in a restaurant
Walking in a mall or near a food court
Runs on any Wi-Fi enabled mobile device from Nokia, Motorola, Blackberry, Apple, Samsung, etc
Mobile device can be running any operating System which has Java support
Devices can be touch screen based or with keypads

Fine Dining And Self-Service Restaurants
Attractive menus in touch screen podiums, kept outside the restaurant tempt customers to enter. Self-ordering systems encourage customers to try out new offerings by their sheer visual appeal.

Product Catalog Kiosks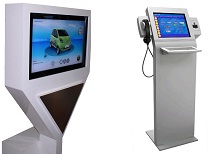 Simple and easy to use touch screen interface
Tamper proof, no keyboard or mouse
Intuitive, no computer knowledge is needed
Flexible, easy to update information
Faster and more accurate than keyboards, and physical buttons
Space saving
Cheaper than manned enquiry counters
Able to deliver information 24x7
Retail Stores

A fun way to showcase the entire product range. To see product details, just zoom in with two fingers. Rotate products to get a 3D view with the unique Multi touch monitors from Palas.