Palas Self Ordering System (PSOS)
How To Buy
PALAS Self Ordering Systems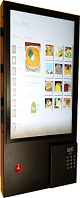 Self ordering systems are fast becoming popular in restaurants. In traditional fast food restaurants customer queue at the cashier to place orders, deciding from the limited menu displayed behind the cashier. In the Palas Self Ordering System (PSOS)
• Customers can browse the entire menu at their own pace, an option preferred by many customers, rather than being hurried by a cashier
• Up-sells, such as extra toppings, or side dishes, or combos are more likely to be chosen
• Many restaurants have reported increased sales after installing self-ordering machines
• Frees up cashiers / order-takers to give more personalised attention to customers
• Excellent return on investment - costs of Palas self ordering systems can be recovered in less than 1 year because of savings on operator cost
• Prices start at ₹93,000 ex-works Delhi. GST extra at actuals

Palas Self Ordering Systems for in-restaurant use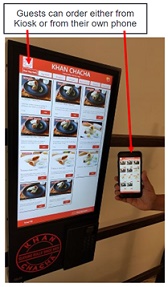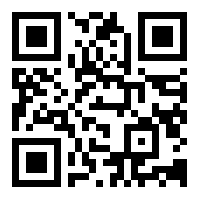 Scan or click the QR code to try out our contactless ordering solution
Palas Self Ordering Systems (sleek, space saving design, only 70mm depth) include :
Capacitive touchscreen monitor
Intel Celeron processor
In-built Credit / Debit Card Reader for payment. Optional E-wallet / UPI payment integration.
Optional QR/Barcode scanner
Pre-loaded order taking software
Windows 10 operating system makes it easy to also install your own billing or order taking software. Optional: Android
4 Standard sizes - 17", 21.5", 27" and 32"
Choice of wall or floor mounts
Choice of colours
Made in India
Models
170BCCM-K-SO
170BCCM-KF-SO
215BCCM-K-SO
215BCCM-KF-SO

270BCCM-K-SO
270BCCM-KF-SO
320BCCM-K-SO
320BCCM-KF-SO
Price
MOQ 5
₹93,000
₹103,000
₹143,800
₹188,000
Software Maintenance
₹750 per month
Extra for card reader payment system
₹500 per month
Floor Mount extra
₹3000
Colour
Standard: Black powder coated metal; others optional extra
Display
View area diagonal
43cm (17")
55cm (21.5")
wide 68cm (27"W)
80cm (31.5"W)
Format
5:4
16:9
16:9
16:9
Display View Area (mm)
338 x 270
477 x 268
597 x x336
697 x x392
Brightness (cd/m²)
250
250
250
250
Resolution
1280 x1024
1920 x1080
1920x1080
1920x1080
Touch Screen
Type
Capacitive
Surface Obstruction
Not affected by surface contaminants like dust, grease, moisture, liquids, paan stains
Processor
Operating System
Standard Win 10 E LTSB
Processor
Standard Celeron; Optional i3 / i5 /i7
Memory
HDD - 120GB SSD ; RAM - 4GB
Payment
E-wallet
Built-in for PayTm, UPI, Bhim etc. Others optional
Credit / Debit Cards
IC Chip Card -ISO/IEC7810; in-built pinpad; contactless wave & pay
Accepts VISA, Master Card, Maestro Cards, RuPay
Scanner
Optional:
Type
Optional, available in models numbers ending with QR; 1D / 2D Imager, Reads Linear, 2D Matrix, QR codes from paper prints or Mobile phone screens
Floor Mount
Optional
Optional, available in model numbers which have "KF" in them
Dimension
Of wall mount model
(WxDxH)
400x70x600 mm
400x70x800 mm
400x70x900 mm
462x80x969 mm
Of floor mount model
(WxDxH)
400 x 400 x ~1500 mm
400 x 400 x ~1600 mm
400 x 400 x ~1800 mm
462 x 462 x ~1800 mm
Others
Power (W) max
220VAC; <80W
220VAC; <100W
220VAC; <150W
220VAC; <150W
Made in
India
All prices are ex-works Delhi. Freight included to single destination in India. GST extra at 18%
Self ordering kiosk systems are fast becoming popular in restaurants such as McDonald's, Wendy's, Chaayos, Khan Chacha, Miraj Cinemas etc. In traditional fast food restaurants customer queue at the cashier to place orders, deciding from the limited menu displayed behind the cashier.
In the Palas Self Ordering System (PSOS)
Customers can browse the entire menu at their own pace, an option preferred by many customers, rather than being hurried by a cashier
Up-sells, such as extra toppings, or side dishes, or combos are more likely to be chosen
Many restaurants have reported increased sales after installing self ordering machines
Frees up cashiers / order-takers to give more personalised attention to customers
Excellent return on investment - costs of Palas self ordering systems can be recovered in less than 1 year because of savings on operator cost
How to use (Customer at PSOS)
Customer selects items on Palas Self Ordering kiosk by simply touching the images on the screen
Once selection is completed, touching "Place Order" sends the amount to the Card Reader, and user is prompted to Swipe/Insert/Wave their card, then enter the PIN if any
On receipt of payment approval, a token number is displayed, receipt sent to the customer's phone, and a KOT sent to any existing kitchen printer
Once order is ready, customer token number can be called out, or displayed by entering manually on any existing token system
How to use (by manager to add/delete items)
Food outlet needs to simply add their item names/images, prices, tax rates using the Palas easy-to-fill forms, and the items will appear on the main screen. This can be done from any laptop / PC connected to the system
At the end of each day, a report will be sent to any existing computer in the restaurant, detailing each sale with totals. This report can be in Excel or CSV format, which can be easily imported into many accounting packages like Tally