Product Applications
3M Touch Systems provides innovative touchscreen products to customers worldwide under the "MicroTouch" brand. Popular single, gesture and multi touch screen applications include touchscreens and touch screen monitors for casino gaming, retail point of sale, foodservice, hospitality, self-service, industrial, healthcare and interactive digital signage. Throughout its history, MicroTouch has focused on innovative technologies that make using computers as simple as touching the screen.
Gaming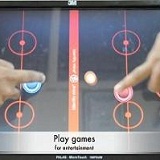 Touchscreens are used in many systems including video lottery terminals, bartop games, jukeboxes and lottery ticket dispensing machines, in restaurants and casinos. Multiple games are possible on a single machine giving users the option to play poker, blackjack, solitaire, trivia, cricket and even finger painting. MicroTouch customers in the gaming market include Bally, IGT, Merit, Silicon Gaming, Leisure Time, Powerhouse, and WMS Gaming.

Casino gaming applications are found worldwide and are most predominant in Las Vegas (U.S.), Atlantic City (U.S.), Macau (China) and in a growing number of Native American Territories (U.S.). Traditionally, these regulated games were designed for individual use, but the forward trend is for networked and multi-player machines to enhance the user experience. Site outage for server update. More updates soon. Tap read more for further information.
Financial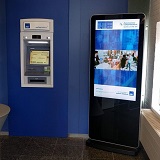 Touchscreens are replacing traditional push buttons on ATM's allowing for more features and selections to be represented on less surface area. Information kiosks kept next to the ATMs provide a low cost solution for giving account information. With simple-to-use menus, user friendly touch systems allow customers to easily access account information. Account balances, last debits/credits, are easily retrieved. A statement of account can be printed on demand. In India, MicroTouch products are being used in Citibank, HDFC Bank, Andhra Bank, Bank of Maharashtra, PNB, Bank of Punjab.

In deal capture systems, touchscreens are used to input trades directly into the computer. In video-based phones, touchscreens replace large banks of phone buttons. MicroTouch customers in the financial market include AMEX, Compaq, Interbold, NYSE, Siemens, NCR, HCL, CMS.
Retail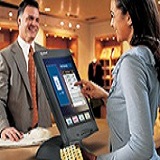 Touch-enabled retail systems cover a broad range of applications found in both supervised and public-access environments. Retail applications can include:
* Point of Sale (POS)
* Digital Signage
* Self Service
* Foodservice
* Hospitality
* Point of Information (POI)

Transportation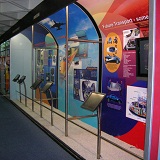 Small non-networked portable devices used in automobiles and boats provide users with up-to-date navigation and directions.
Networked kiosks are used to dispense tickets for train, rail or airplanes, and allow the purchaser to select the class of travel and specific seats. Kiosks are being extended beyond traditional transportation depots to the outer reaches of towns enabling customers to purchase tickets outside traditional transportation terminals. Entertaining travelers during long trips with personal seatback displays that provide access to music, movies and games for travelers of all ages. Transportation applications can include:
* Navigation Devices
* Ticketing Systems
* Seatback Entertainment Systems

Entertainment
Stand-alone or networked entertainment machines provide patrons with a variety of games and on-demand music. These games can be stand-alone machines or networked devices where players at separate tables or even in different venues can compete against each other. These are "pay for play" machines and can be found in arcades, bars, pubs, restaurants or other location where people gather.
Entertainment applications include:
* Amusement Arcade Games
* Amusement-with-Prize Games / Skill-with-Prize Games
* Bartop Games

Industrial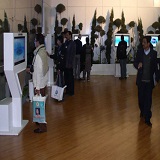 Light-industrial applications use small- and large-scale manufacturing equipment to process raw materials or food ingredients into finished products. This processing equipment uses automated controls to monitor and adjust various aspects of the manufacturing line. Transport equipment can also be used to move material or finished goods from one stored location to another.
Industrial applications can include:
* Manufacturing Process Controls
* Food Processing
* Logistics and Handling Equipment

HealthCare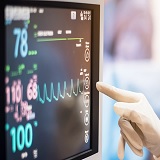 Networked computer systems help the healthcare community streamline and decrease costs by accessing central data banks of patient information and decreasing the use of paper records. Touch interfaces are used with these systems to access patient history, billing information, aid in diagnosis and educate patients on treatment options.
Healthcare applications can include:
* Medical Records Access
* Pill Dispensing Equipment
* Bedside Patient Controls
* Diagnostic Equipment

E-Governance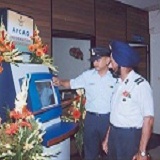 MicroTouch based touchscreen kiosks are part of the e-governance initiative in many states. Land records, details of government schemes, applications for birth certificates,