PCUM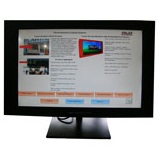 Palas PCUM series Touch Monitors use the world's best touch screens (Single Touch, Capacitive).
All glass touch screen construction - Operation unaffected by liquids, dust, dirt, grease.
Fast: The worlds fastest touchscreens, less than 5.4ms response time User friendly: Anti-reflective finish, easy glide surface coating for a smooth feel.
Rugged: Metal Panel Body is designed for hot, harsh, dusty environments.
Extended warranty packs available.
Easy mounting through VESA mount or side mounting points.
Can be used inside a kiosk, fixed to a wall or pole, or panel mounted.
Dimensions do not change over years, making it ideal for OEMs Several colour options and finishes.
Local service: Ensures high uptime. Available ex-stock in India.
Made in India.
Available in sizes from 21cm (8.4") to 80cm (32")