3M™ MicroTouch™ System SCT7650EX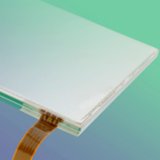 Rugged Solution for Impact Strength and User Safety.
The 3M MicroTouch System SCT7650EX is a surface capacitive touch system - an ideal solution for ruggedized self-service kiosks and ATM applications - environments where impact strength, shatter resistance, brighter displays, and superior surface wear are a requirement.
As 3M's most rugged touch product, its construction combines a 3M surface capacitive touch sensor with 4mm backer glass with optically-clear lamination. This glass-on-glass laminated vandal resistant construction makes it an ideal touch solution for unsupervised, vandal-prone environments.
Product Highlights
Comply with UL 60950 safety standards (impact breakage)
Drop a steel ball weighing 500gms from a height of 1.3 mtrs without breaking the touchscreen
In the event of extraordinary force, the laminated construction prevents injury from sharp shards
Excellent light transmission provides vibrant optical characteristics with anti-glare properties
IP66 / NEMA 6 sealable against liquids and other contaminants
8mm thickness
Wide range of operating (-40°C to +70°C) and storage (-50°C to +80°C) temperatures
Enchanced light transmission value of 86.5%(±1.5%)
Available in sizes from 26cm (10.4") to 80cm (32")