3M™ MicroTouch™ System SCT3250EX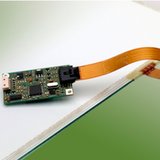 Known for innovative technology and products, 3M Touch Systems has leveraged decades of capacitive technology experience to create the MicroTouch SCT3250EX Capacitive touchscreens (formerly called ClearTek II Capacitive Touch System). MicroTouch Capacitive sensors have enhanced light transmission, with a very fast response to even the most gentle of touches.
MicroTouch SCT3250EX sensors, combined with the solid foundation of MicroTouch EX II controllers offer high endurance solutions for a multitude of touch applications where exceptional performance, vibrant optics and environmental robustness is mission-critical, 24/7.
Product Highlights
Enhanced light transmission of 91.5% (+/-1.5%), the highest of any touch screen with anti-glare
Speed - MicroTouch SCT3250EX touch screens have the worlds fastest response time.
Gentle Touch - touchscreen works even with a very light touch, with a contact time of only 5.4ms
Durability - MicroTouch screens have been tested to withstand over 225 million touches
Accuracy - Reported touch coordinates are within 1.0% of true position
Performance unaffected by everyday contaminants in the environment.
One of 3M Touch Systems core capabilities are the coatings used to create MicroTouch ClearTek touch sensors. These coatings provide surface durability, anti-glare optics, and scratch resistance.
Hard Coat - The 3M MicroTouch ClearTek hard coat was formulated by 3M Touch Systems chemical engineers and is chemically bonded to the touch sensor's glass substrate to provide premium protection of the conductive coating. The ClearTek coat also
provides anti-glare characteristics and enhances the light transmission value to 91.5%
.
Top Coat - 3M Touch Systems applies a top coat to each ClearTek II touch sensor that fills in the relatively rough surface of the glass substrate. By reducing the surface energy of the touch surface, this top coat
makes the surface easier to clean, minimizes contaminants adhering to the surface; liquids tend to bead up and flow easier off the screen
Available in sizes from 16cm (6.4") to 80cm (32")