3M™ MicroTouch™ System DST2270DX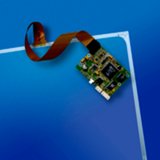 In most cheap large-format touch technologies "touch position" is calculated when a finger interrupts an optical field, infrared light beams or acoustic waves on or above the surface of the touch screen. Performance of such technologies are affected by surface contaminants and environmental interference.
What's different about 3M DST is that it precisely calculates touch locations by analyzing the bending waves within the glass substrate that are created by the user's touch. Bending waves differ from surface waves in that they traverse through the thickness of the panel rather than the surface of the material. This makes DST unaffected by contaminants, scratches, or standing objects on the screen.
Product Highlights
Fast, accurate, repeatable touch
Excellent light transmission provides vibrant optical characteristics with anti-glare properties
Touch unaffected by surface contaminants, such as liquids, dirt, dust and grime, or standing objects
Operation unaffected by surface damage
Chemically-strengthened glass meets EN/UL 60950 glass breakage specifications
Input flexibility from finger or stylus, such as pencil, credit card, finger nail, or similar
Available in sizes from 80cm (32") to 139cm (55")