BDxM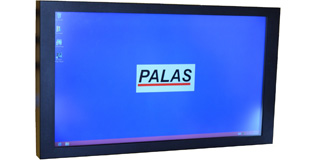 The heart of a Touch Computer is the touch screen, as it is the only contact point between the user and the system. Palas Touch Computers uses 3M MicroTouch touch screen. All-glass construction provides vandal resistance and durability against scratches. Accurate and durable.
Ideal for Indian conditions. Local service ensures high uptime. Available ex-stock in India as Touch Computers are made by Palas in India.
Applications include Process Control, Plant-floor applications, POS, Kiosks and many other demanding areas.
Product Highlights
Uses a metal frame. Meant for harsh environments (high temperatures, dust, vibration)
Easy mounting - Can be used inside kiosk, fixed to a wall, or integrated into machinery
Various color options and finishes
Uses the 3M MicroTouch DST Touch screen
Optional ToughTouch strengthened screen for vandal-prone areas