3M™ MicroTouch™ System SCT3250SX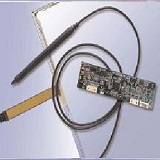 The 3M MicroTouch System SCT3250SX extends the input flexibility of 3M Surface Capacitive Technology by supporting both finger touch and pen input. The tethered pen stylus offers handwriting recognition, signature capture, and on-screen annotation capabilities. It is an excellent solution for applications with dense menus or with detailed images too small to touch with a finger.
The system consists of a standard SCT3250 touch screen combined with an add-on kit containing a tethered-pen controller, pen stylus, and cable kit.
Can be set up for either of :
Pen only-only pen input is accepted and all other input, including a hand resting on the screen called "palm rejection", is ignored
Pen or finger-in this dual mode, the touch screen accepts touch from both the pen or from a user's finger, which is critical for most point-of-sale signature capture applications
Available in sizes from 16cm (6.4") to 80cm (32")